| | | |
| --- | --- | --- |
| Site: The GWPF | Slant: Sceptic | Active: yes |
---
The Global Warming Policy Foundation was launched by Lord Lawson and Dr Benny Peiser on 23 November 2009 in the House of Lords – in the run-up to the Copenhagen Climate Summit.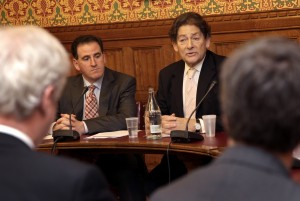 Introducing the new think tank, Lord Lawson explained its origin:
"Last year I brought out a book on global warming which (rather to my surprise) generated an enormous feedback, almost all of it positive. A number of those who wrote to me, who included scientists, engineers and others with an experienced background, urged me not to leave the matter there but to follow it up in some way. It was this that led me to found the think-tank we are launching today, which can achieve far more than I could on my own."
The Global Warming Policy Foundation says it is unique. "We are an all-party and non-party think tank and a registered educational charity which, while open-minded on the contested science of global warming, is deeply concerned about the costs and other implications of many of the policies currently being advocated."
Recent Articles
Professor Valentina Zharkova gave a presentation of her Climate and the Solar Magnetic Field hypothesis at the Global Warming Policy Foundation in October, 2018.
2018-11-05 09:16 Click to comment
New book debunks link between population growth and catastrophic climate change scenarios. Many scholars, activists and policy-makers argue that improving the living conditions of a growing population can only result in unsustainable increases in greenhouse gas emissions. Because some economic and climate models suggest that having fewer children is the best way to reduce overall […]
2018-10-24 13:20 Click to comment
Review of official data finds UK climate is more stable than predicted London, 23 October: Met Office weather data shows that the UK's climate is changing very little. That's according to a new briefing paper from the Global Warming Policy Foundation. The review, which examines official temperature, rainfall, drought and other weather data shows that although temperatures increased slightly…
2018-10-23 07:00 Click to comment
London, 12 October: Lord Deben, Chairman of the influential Committee on Climate Change (CCC) has been found guilty by the BBC Executive Complaints Unit of misleading listeners of the Today programme. The incident occurred on 28 June, when Deben was being interviewed by John Humphrys in advance of the CCC's Progress Report to Parliament. During the segment, […]
2018-10-12 07:20 Click to comment
2018 Annual GWPF Lecture Richard Lindzen Global Warming For The Two Cultures Over half a century ago, C.P. Snow (a novelist and English physical chemist who also served in several important positions in the British Civil Service and briefly in the UK government) famously examined the implications of 'two cultures': "A good many times […]
2018-10-08 19:00 Click to comment
It is with regret that I have to announce the death of my father David (P.D.) Henderson on Sunday September 30th 2018. Aged 91 years, he was formerly Head of what was then the Economics and Statistics Department of the Organisation for Economic Cooperation and Development (OECD) in Paris. After taking a first class degree […]
2018-10-01 13:50 Click to comment
London 28 September: A review of UK media coverage of the shale gas industry concludes that major media outlets have been hyping claims of environmentalists while playing down the benefits. The briefing, published by the Global Warming Policy Foundation, focuses on the output of the BBC and the Guardian, and outlines many examples of biased coverage. However, it […]
2018-09-28 07:37 Click to comment
The 2018 Annual GWPF Lecture will be delivered by Professor Richard S. Lindzen Global Warming for the Two Cultures When: Monday 8 October 2018 — 7:00pm Where: Institution of Mechanical Engineers, One Birdcage Walk, London SW1H 9JJ Attendance is by invitation only
2018-09-20 10:52 Click to comment
London 10 September: An important new briefing paper published by the Global Warming Policy Foundation reveals that the government has kicked a key nuclear programme into the long grass. This follows an announcement last week by the Department of Business, Energy and Industrial Strategy on its small modular nuclear (SMR) competition, which outlined new funding for […]
2018-09-10 07:00 Click to comment
An important new briefing paper published by the Global Warming Policy Foundation reveals that the government has kicked a key nuclear programme into the long grass. Full paper (pdf)
2018-09-10 05:24 Click to comment
Save The Oceans – Stop Recycling Plastic   London 28 June: An explosive report from the Global Warming Policy Foundation (GWPF) reveals that efforts to recycle plastic are a major cause of the marine litter problem. The report, written by public health expert Dr Mikko Paunio, sets out the case for incinerating waste rather than
2018-06-28 06:05 Click to comment
Models Of Stranded Fossil Fuel Assets Cannot Be Trusted The GWPF is today publishing a brief comment  on the recent and much publicised paper in Nature Climate Change by J.-F. Mercure et al. Dr Mercure and his colleagues offer modelled outputs to suggest that fossil fuel demand will fall sharply on the basis of current policies, and
2018-06-11 09:23 Click to comment
Climate change is a fact. It is not a modern phenomenon but has always been with us. There has never been anything resembling a constant climate on our planet. Our climate has been continuously on the move. The Earth's history tells us that very cold periods ('glacials') have always alternated with very warm periods ('interglacials'). Travelling from a
2018-06-08 12:41 Click to comment
The Global Warming Policy Foundation is pleased to announce that William Kininmonth has joined the GWPF's Academic Advisory Council. William Kininmonth is a former head of Australia's National Climate Centre and consultant to the WMO Climate Division. He is author of "Climate Change: A Natural Hazard" (Multi-Science Publishing, 2004) and continues to write on climate
2018-05-22 09:49 Click to comment
The Global Warming Policy Foundation is pleased to announce that the 2018 Annual GWPF Lecture will be delivered by   Professor Richard S. Lindzen Global Warming for the Two Cultures   When: Monday 8 October 2018 — 7:00pm Where: Institution of Mechanical Engineers, One Birdcage Walk, London SW1H 9JJ Attendance is by invitation only
2018-05-21 10:52 Click to comment
The climatologist Bill Gray passed away in 2016. One of the world's leading experts on tropical hurricanes and the initiator of seasonal hurricane forecasts he was also a prominent critic of mainstream views on climate change, arguing that natural processes play a much more important role than is generally acknowledged. Before he died, Professor Gray asked colleagues
2018-05-15 09:27 Click to comment
Efforts to decarbonise will kill millions in poor countries   London 4 May 2018. A new report from the Global Warming Policy Foundation finds that climate and green energy policies promoted by development organisations will cause millions of preventable deaths in the developing world.    The report, by eminent epidemiologist Mikko Paunio, says that international bodies and NGOs are
2018-05-04 07:43 Click to comment
A statement to the effect that there is a 'consensus among scientists' on AGW is more or less equivalent to saying that 'the science is settled'. While there is certainly a consensus among scientists that increasing carbon dioxide in the atmosphere will increase the average surface temperature of the world above what it would have been otherwise, there
2018-05-01 08:31 Click to comment
Consumers warned to avoid battery storage for rooftop solar systems London 16 April 2018. Rechargeable batteries are said to be a way to extend the appeal of rooftop solar installations, storing the energy generated during the day for use at night. Home energy storage looks set to become big business: Tesla has already entered the
2018-04-16 09:21 Click to comment
London, 10 April: The Global Warming Policy Foundation (GWPF) has criticised Ofcom for its ruling against a BBC interview with Lord Lawson.   In his interview with the BBC's Today Programme on 10 August 2017, Lord Lawson pointed out that while some extreme events had increased, others had diminished. Overall, however, extreme weather events had
2018-04-10 10:00 Click to comment
New understanding of ultra-long timescales provides a new take  on climate.   London, 6 April 2018 A newly published paper in the journal Physica A suggests that there is an undiscovered universe all around us that we are too short-lived to perceive. Authors Prof. Christopher Essex (Applied Mathematics, University of Western Ontario) and Prof. Anastasios Tsonis (Mathematical
2018-04-06 08:27 Click to comment
The Global Warming Policy Foundation is pleased to announce that Professor Ole Humlum has joined the GWPF's Academic Advisory Council. Dr Humlum is a former Professor of Physical Geography at the University Centre in Svalbard, Norway, and Emeritus Professor of Physical Geography at the University of Oslo. He is a member of the Norwegian Scientific
2018-04-04 08:35 Click to comment
---
comments powered by

Disqus
---
454