| | | |
| --- | --- | --- |
| Site: The GWPF | Slant: Sceptic | Active: yes |
---
The Global Warming Policy Foundation was launched by Lord Lawson and Dr Benny Peiser on 23 November 2009 in the House of Lords – in the run-up to the Copenhagen Climate Summit.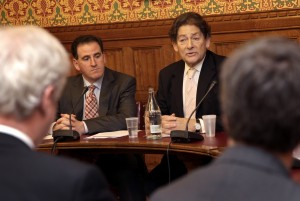 Introducing the new think tank, Lord Lawson explained its origin:
"Last year I brought out a book on global warming which (rather to my surprise) generated an enormous feedback, almost all of it positive. A number of those who wrote to me, who included scientists, engineers and others with an experienced background, urged me not to leave the matter there but to follow it up in some way. It was this that led me to found the think-tank we are launching today, which can achieve far more than I could on my own."
The Global Warming Policy Foundation says it is unique. "We are an all-party and non-party think tank and a registered educational charity which, while open-minded on the contested science of global warming, is deeply concerned about the costs and other implications of many of the policies currently being advocated."
Recent Articles
The Global Warming Policy Foundation (GWPF) has welcomed the BBC's reprimand for one of its science presenters who started a political campaign against Graham Stringer, Labour MP for Blackley and Broughton and a member of the GWPF's board of trustees. Graham Stringer MP has been a member of the House of Commons Science and Technology Committee since 2006
2017-09-18 14:32 Click to comment
An eminent atmospheric scientist says that natural cycles may be largely responsible for climate changes seen in recent decades.    In a new report published by the Global Warming Policy Foundation, Anastasios Tsonis, emeritus distinguished professor of atmospheric sciences at the University of Wisconsin-Milwaukee, describes new and cutting-edge research into natural climatic cycles,…
2017-09-15 09:21 Click to comment
The Global Warming Policy Foundation is pleased to announce that the 2017 Annual GWPF Lecture will be delivered by   The Honourable Tony Abbott MP Former Prime Minister of Australia   When: Monday 9 October 2017 — 7:00pm Where: Institution of Mechanical Engineers, One Birdcage Walk, London SW1H 9JJ Attendance is by invitation only
2017-08-31 11:35 Click to comment
The Met Offices's model-based rainfall forecasts have not stood up to empirical tests, and do not seem to give better advice than observational records. In July this year, scientists from the UK Meteorological Office released a new study estimating the risk of UK regions suffering a record-breaking monthly rainfall between the months of October and March.
2017-08-03 12:42 Click to comment
The legendary author, poet, journalist and humorist, Clive James has recently been casting a weary eye over the state of the climate debate and has concluded that climate alarmists are on the ropes:   "The proponents of man-made climate catastrophe asked us for so many leaps of faith that they were bound to run out
2017-07-31 08:00 Click to comment
The GWPF has published a new briefing note on the state of the United Kingdom's shale gas and oil developments. It reveals that while the industry is engaged in exploration activities, there have been some promising new developments which suggest that the sector is entering a critical phase. Chief among these are new planning permissions
2017-07-24 11:25 Click to comment
Talk by Prof Roger Pielke Jr. at the GWPF, London 20 July 2017 The decision by US President Donald Trump to remove the US from the Paris Agreement on climate change was met with both derision and applause. Such is climate politics in the United States in the 21st century. This talk focuses on climate politics
2017-07-24 11:12 Click to comment
Eminent energy economist warns that carbon capture and storage will never be viable That is the stark message of Professor Gordon Hughes, Professor of Economics at the University of Edinburgh and a former adviser to the World Bank. In a new report published by the Global Warming Policy Foundation, Professor Hughes says that claims that
2017-06-28 00:10 Click to comment
Talk by Prof Roger Pielke Jr., University of Colorado London, 55 Tufton Street, SW1P 3QL 20 July 2017 ** 6.30 – 8.30pm Roger Pielke Jr. The decision by US President Donald Trump to remove the US from the Paris Agreement on climate change was met with both derision and applause. Such is climate politics in the United
2017-06-16 16:23 Click to comment
The Global Warming Policy Foundation is proud to announce it will screen the UK premiere of the award-winning film The Uncertainty Has Settled in London on 18 May.     After eight years of travelling through conflict and poverty zones, Marijn Poels – a left wing filmmaker/journalist – decides to take some time off. In
2017-05-03 12:33 Click to comment
The Global Warming Policy Foundation is delighted to announce that Andrew Montford has been appointed as Deputy Director. Andrew Montford is a writer specialising in climate change issues and is best known as the author of The Hockey Stick Illusion. He is the author of several GWPF reports, including its first one, on the Climategate Inquiries. He appears
2017-05-02 10:55 Click to comment
London, 31 March 2017 — Prominent climate scientists tell  US Congressional committee that climate science isn't working, but can be saved by a "red team" approach. A group of prominent US climate experts have told a Congressional committee hearing that climate science is dysfunctional, beset by bias and groupthink, and is using a profoundly unscientific
2017-03-31 13:22 Click to comment
London, 22 March: A report on the State of the Climate in 2016 which is based exclusively on observations rather than climate models is published today by the Global Warming Policy Foundation (GWPF).    Compiled by Dr Ole Humlum, Professor of Physical Geography at the University Centre in Svalbard (Norway), the new climate survey is
2017-03-22 10:51 Click to comment
---
comments powered by

Disqus
---
29