| | | |
| --- | --- | --- |
| Site: The GWPF | Slant: Sceptic | Active: yes |
---
The Global Warming Policy Foundation was launched by Lord Lawson and Dr Benny Peiser on 23 November 2009 in the House of Lords – in the run-up to the Copenhagen Climate Summit.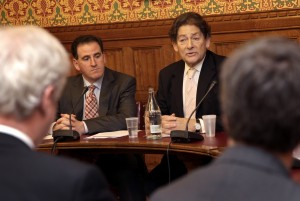 Introducing the new think tank, Lord Lawson explained its origin:
"Last year I brought out a book on global warming which (rather to my surprise) generated an enormous feedback, almost all of it positive. A number of those who wrote to me, who included scientists, engineers and others with an experienced background, urged me not to leave the matter there but to follow it up in some way. It was this that led me to found the think-tank we are launching today, which can achieve far more than I could on my own."
The Global Warming Policy Foundation says it is unique. "We are an all-party and non-party think tank and a registered educational charity which, while open-minded on the contested science of global warming, is deeply concerned about the costs and other implications of many of the policies currently being advocated."
Recent Articles
Researcher says attempts to silence her have failed Polar bear numbers could easily exceed 40,000, up from a low point of 10,000 or fewer in the 1960s. In The Polar Bear Catastrophe that Never Happened, a book published today by the Global Warming Policy Foundation, Dr Susan Crockford uses the latest data as well as revisiting […]
2019-03-19 08:43 Click to comment
A new report from the Global Warming Policy Foundation reveals that the solar influence on climate is is much larger than is generally recognised. The report, by Professor Henrik Svensmark of the Danish National Space Institute, outlines some of the remarkable correlations between solar activity and past climate changes. It also shows that the output […]
2019-03-11 08:30 Click to comment
INTERNATIONAL POLAR BEAR DAY Inuit paying the price of rising bear populations The 2018 State of the Polar Bear report, published today by the Global Warming Policy Foundation, confirms that polar bears are continuing to thrive, despite recent reductions in sea ice levels. This finding contradicts claims by environmentalists and some scientists that falls in […]
2019-02-27 08:00 Click to comment
Rapid decarbonisation is "a delusion" A prominent Canadian economist has called for the political classes to stop making claims that they cannot fulfill and to return to energy policies grounded in reality. In a new paper published by the Global Warming Policy Foundation (GWPF), Robert Lyman sets out the economic and technological constraints on delivering […]
2019-02-14 08:00 Click to comment
Calls for withdrawal of "insect collapse" paper London, 11 February: The scientific paper behind newspaper claims that insect populations were threatened with extinction was based on data known to be unreliable. That's according to the Global Warming Policy Foundation, which today called for the paper to be withdrawn. The paper, by US scientists Bradford C Lister […]
2019-02-11 08:57 Click to comment
Engineer pours cold water on battery and hydrogen technologies A new briefing paper from the Global Warming Policy Foundation (GWPF) dismisses the idea that grid-scale electricity storage can help bring about a UK renewables revolution. According to the paper's author, Professor Jack Ponton, an emeritus professor of engineering from the University of Edinburgh, current approaches are either…
2019-02-07 08:24 Click to comment
European health expert says a false climate narrative threatens millions of people in developing world A prominent epidemiologist has accused the Intergovernmental Panel on Climate Change (IPCC) of inserting a false narrative into the debate on air pollution and health. Dr Mikko Paunio, an adviser to the Finnish government, says that the panel has persuaded […]
2019-01-24 08:34 Click to comment
London, 16 January: Lord Lawson has announced that he is stepping down as Chairman of the Global Warming Policy Foundation, after leading one of the world's top climate policy think-tanks for a decade. Announcing his resignation at a meeting of the Board of Trustees, Lord Lawson said: "Over the past ten years the GWPF has […]
2019-01-16 12:53 Click to comment
"Simply no increase" in hurricane activity around the world London 13 January: A new paper from the Global Warming Policy Foundation (GWPF) reveals that there has been no increase in global hurricane activity, despite frequent claims that global warming is making hurricanes more of a problem. As the report's author, Paul Homewood, explains: "The […]
2019-01-13 14:00 Click to comment
Damning report says we could have had the same CO2 emissions reductions for a fraction of the price London 10 January: A new report from the Global Warming Policy Foundation finds that UK consumers are paying far too much for the emissions reductions delivered by renewable energy. The report, by Dr Capell Aris, is […]
2019-01-10 08:32 Click to comment
Patricia Adams a publié décembre 2015 lors de la COP21 à Paris, un rapport intitulé « la vérité sur la Chine ». Abondamment documenté sur les politiques climatique et énergétique de la Chine, ce rapport analysait les stratégies de négociation internationale menées par la Chine depuis les années 1990 jusqu'à l'accord de Paris. Une mise […]
…
2019-01-09 11:27 Click to comment
Reply by Ray Bates to the blog post by Peter Thorne of Maynooth University A) General comments 1) Prof. Thorne states that my critique of SR1.5 was not peer-reviewed and should not be referred to as a paper. His statement is incorrect. My critique was peer-reviewed. I wouldn't list it in my CV as […]
2018-12-30 22:05 Click to comment
London 29 December: Following a complaint from the Global Warming Policy Foundation, the Mail Online has withdrawn an article that claimed that global warming was warming the oceans faster than previously thought. The article, by journalist Victoria Bell, was based on claims made in the journal Nature a month earlier. However, one month before the Mail […]
2018-12-29 07:59 Click to comment
Please Support the GWPF Dear Friend, I hope you have enjoyed our GWPF papers, reports, videos and newsletters during the last 12 months. I am always delighted to receive feedback from our readers and enjoy hearing how our work continues to play such a crucial role in the climate debates both in Europe and […]
2018-12-22 11:16 Click to comment
London, 20 December: One of Europe's most eminent climate scientists has documented the main scientific reasons why the recent UN climate summit failed to welcome the IPCC's report on global warming of 1.5°C. In a paper published today by the Global Warming Policy Foundation Professor Ray Bates of University College Dublin explains the main […]
2018-12-20 06:01 Click to comment
For all its green talk, China is sticking to fossil fuels London, 12 December – While leaders of western countries fret about their greenhouse gas emissions in Katowice, China is forging ahead with new projects and investments in coal and gas. According to a new paper from the Global Warming Foundation (GWPF), the Communist Party's survival depends on […]
2018-12-12 08:30 Click to comment
Sous le titre évocateur Deficiencies, Le GWPF a mis en ligne un article du professeur Ray Bates qui démontre les faiblesses scientifiques du rapport du GIEC d'octobre 2018 sur les conséquences d'un réchauffement de 1,5°C (versus 2°C), dit rapport SR1.5. Nous en proposons ci-dessous une traduction. Ce document est une critique factuelle de certaines conclusions centrales du récent rapport…
2018-12-10 14:45 Click to comment
London, 22 November: At an event last night in the House of Commons, the Global Warming Policy Foundation (GWPF) launched a new report, reviewing the economic and social impact after ten years of the UK's Climate Change Act (CCA). The Climate Change Act at Ten: History's Most Expensive Virtue Signal, written by Rupert […]
2018-11-22 08:01 Click to comment
Professor Valentina Zharkova gave a presentation of her Climate and the Solar Magnetic Field hypothesis at the Global Warming Policy Foundation in October, 2018.
2018-11-05 09:16 Click to comment
New book debunks link between population growth and catastrophic climate change scenarios. Many scholars, activists and policy-makers argue that improving the living conditions of a growing population can only result in unsustainable increases in greenhouse gas emissions. Because some economic and climate models suggest that having fewer children is the best way to reduce overall […]
2018-10-24 13:20 Click to comment
Review of official data finds UK climate is more stable than predicted London, 23 October: Met Office weather data shows that the UK's climate is changing very little. That's according to a new briefing paper from the Global Warming Policy Foundation. The review, which examines official temperature, rainfall, drought and other weather data shows that although temperatures increased slightly…
2018-10-23 07:00 Click to comment
London, 12 October: Lord Deben, Chairman of the influential Committee on Climate Change (CCC) has been found guilty by the BBC Executive Complaints Unit of misleading listeners of the Today programme. The incident occurred on 28 June, when Deben was being interviewed by John Humphrys in advance of the CCC's Progress Report to Parliament. During the segment, […]
2018-10-12 07:20 Click to comment
2018 Annual GWPF Lecture Richard Lindzen Global Warming For The Two Cultures Over half a century ago, C.P. Snow (a novelist and English physical chemist who also served in several important positions in the British Civil Service and briefly in the UK government) famously examined the implications of 'two cultures': "A good many times […]
2018-10-08 19:00 Click to comment
It is with regret that I have to announce the death of my father David (P.D.) Henderson on Sunday September 30th 2018. Aged 91 years, he was formerly Head of what was then the Economics and Statistics Department of the Organisation for Economic Cooperation and Development (OECD) in Paris. After taking a first class degree […]
2018-10-01 13:50 Click to comment
London 28 September: A review of UK media coverage of the shale gas industry concludes that major media outlets have been hyping claims of environmentalists while playing down the benefits. The briefing, published by the Global Warming Policy Foundation, focuses on the output of the BBC and the Guardian, and outlines many examples of biased coverage. However, it […]
2018-09-28 07:37 Click to comment
The 2018 Annual GWPF Lecture will be delivered by Professor Richard S. Lindzen Global Warming for the Two Cultures When: Monday 8 October 2018 — 7:00pm Where: Institution of Mechanical Engineers, One Birdcage Walk, London SW1H 9JJ Attendance is by invitation only
2018-09-20 10:52 Click to comment
London 10 September: An important new briefing paper published by the Global Warming Policy Foundation reveals that the government has kicked a key nuclear programme into the long grass. This follows an announcement last week by the Department of Business, Energy and Industrial Strategy on its small modular nuclear (SMR) competition, which outlined new funding for […]
2018-09-10 07:00 Click to comment
An important new briefing paper published by the Global Warming Policy Foundation reveals that the government has kicked a key nuclear programme into the long grass. Full paper (pdf)
2018-09-10 05:24 Click to comment
Save The Oceans – Stop Recycling Plastic   London 28 June: An explosive report from the Global Warming Policy Foundation (GWPF) reveals that efforts to recycle plastic are a major cause of the marine litter problem. The report, written by public health expert Dr Mikko Paunio, sets out the case for incinerating waste rather than
2018-06-28 06:05 Click to comment
Models Of Stranded Fossil Fuel Assets Cannot Be Trusted The GWPF is today publishing a brief comment  on the recent and much publicised paper in Nature Climate Change by J.-F. Mercure et al. Dr Mercure and his colleagues offer modelled outputs to suggest that fossil fuel demand will fall sharply on the basis of current policies, and
2018-06-11 09:23 Click to comment
---
comments powered by

Disqus
---
976